When choosing a location for my "selfies" I normally pick a place that's semi out of the way.
Bridges.
Alleys.
Dirt Roads.
Places where there is only a slight chance for onlookers.
Lately, I have been envisioning something much different.
For some reason, I have it stuck in my head that I want to be in a huge crowd of people while taking my OOTD photos.
I'm really trying to kick this here blog up a notch and I think that is exactly where I'm headed.
My weekend is taking me to Seattle for my brothers wedding and by golly, I'm going to be take selfies at the market if it kills me!
So if you're in Seattle this weekend look for the girl making a total ass of herself by the flowers.
I promise, it's a show you'll want to watch.
Let's be honest: taking pictures of yourself is always kind of awkward... throw in the stunts and struts that I pull out... and BOOM. May-Ja.
When there people stop and watch it normally ends in one of two ways:
1. I wave, smile and give my audience the show they expect.
2. I say a million curse words in my head, pack up my stuff and leave.

I think you can guess what happened here.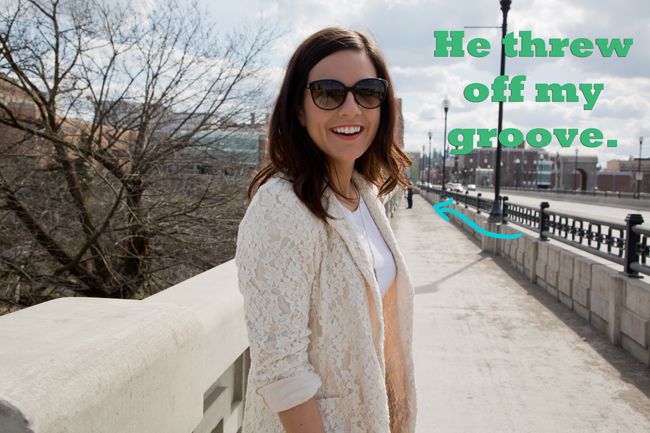 THIS guy completely threw off my shot.
The bridge was my spot that day and... Look who comes trotting on by.
Some dude with a HUGE camera and tripod.
As he's walking by... "I'm probably going to be in your shot."
Thanks, buddy. Thanks a lot.

So I packed up my stuff and moved to a different location, which actually worked out really well.
I will show you those photos tomorrow.


Would you be interested in a little "behind the scenes" look at how I do my photoshoots?
I'm thinking of making a little video.....Thoughts?
Ladies and Gents it's Wednesday.
I hope yours is the best ever.
And I mean it.