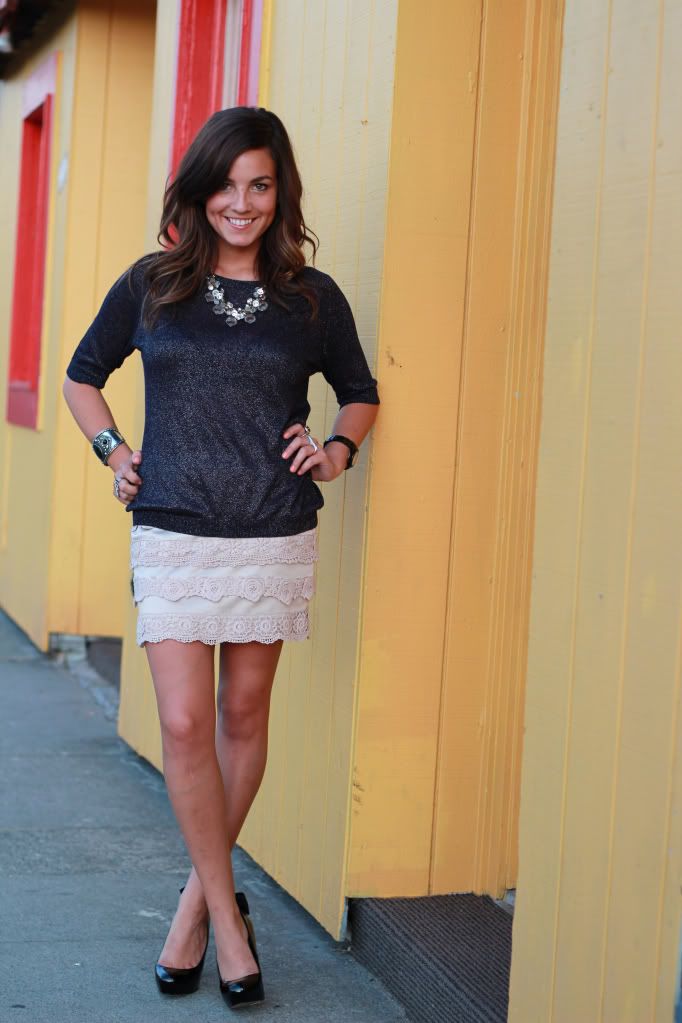 (Sweater- Gap, Necklace- Gift, Skirt, Bracelet, Rings- F21, Shoes- Dolce Vita, Watch-Fossil)
I love the feeling of a perfect fit. Whether it be your toes sliding into platform pumps, lyrics that speak to your life, fingers making their way into five others or tightly wrapped arms. There is just something there that makes that moment unforgettable. Whether it's ten minutes or ten years before you feel that way again... you know it was made for you. It's like someone wrapped it up, put a big bow on it and is just waiting for you to rip it apart.
But instead of tearing into this wonderful gift... cherish what it's made of. The look, the feel, what's behind it and how long it will last. Sometimes the shelf life is instantaneous, others last a life time.
Now I know what you're thinking...
"Stop being all coy, and tell us what you are actually talking about!"
Here it is, straight up.
I am in love....with these new SHOES!
Yeah, I'm serious. They are perfect. They make me 19 feet tall and they have a pretty bow in the back. I am going to wear them to the gym, just because. I need to break them in for Austin (Who am I kidding? I don't do anything at the gym).
So there you have it. If you want to make something beautiful put a bow on it. It works every time...
Two unattractive pictures combined makes one ______________ picture (You fill in the blank)