Ever been in two places at once? Me either. WAIT today I am guest posting in 2 places! So I guess that technically means that I am in three places at once. Nevertheless, if you haven't checked em out you really should!
These are two of my blogging BFFs. Always making me laugh and saying things that brighten my day.
First, you all know Rissy. You know, hilarious little brunette Carrie Underwood look-a-like. There are many words to describe this girl but I'll choose this one.
Galvanizing
. As in: she will galvanize your brain.
Check out my post
on my worst job ever.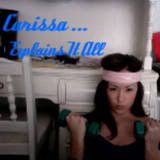 Next, is this dahhhling little blonde photog, Shalyn. She is seriously the sweetest Texan I have ever met. I have so much blog love for this little lady! You can see my
Vlog here.
So if you're feeling up to it please check out
this
and
this
post!!
Thanks lovelies!